As 2018 wraps up and I see a whole bunch of people posting their reading goals for 2019, I've been thinking about my own. Do I have any, or do I just want to keep grabbing at whatever catches my attention throughout the year? I've decided the answer is both. Yes, I plan to grab at what entices me because reading should be an enjoyable, relaxing experience. But, I also have a project in mind that I would like to spend 2019 working towards. And that is to get at more than a few series that have been on my radar for a long time.
One of my favorite things to do is marathon a series. I feel that when I read each book, one after the other until the end, I get a better feel for the series as a whole and can rate the series as well as each individual book. Reading an entire series when the previous book is still fresh in your memory allows you to transport yourself into the world that has been carefully and (hopefully) masterfully written, immersing you in the entire experience. I LOVE it.
I will typically read the first book in a series to determine if it's 'for me' and whether or not I'll want to continue. If the series passes the test and has been completed, I'll scramble to get my hands on the remainder and marathon the series. If the series has not been completed, I'll hold off and wait (painfully) until the series has been completed. That way, if a few years have gone by since I started the series and I need to reread the first book to refresh, I won't have to slog through three or four rereads to get to the good stuff. Maybe I shouldn't say slog…I enjoyed the books for a reason. I would just prefer not to reread more than two books in the same series if I don't have to.
Anyways, here is the list of series I will be finishing AND starting in 2019. There are nine total which I am confident is a totally realistic number for an entire year of reading. I will include Goodreads links to the first book in each series for those interested in reading more about them. Enjoy!
---
Series to Finish
1. Throne of Glass series by Sarah J. Maas
I am a total sucker for books about assassins and all their blade swirling shenanigans. This young adult fantasy series begins with a story about an assassin who finds herself summoned to a king she hates after being imprisoned for years by said king. She is being given the option to die in prison, or fight as his champion to earn her freedom. I love what I've read so far and will admit that I couldn't stop myself and made it to book four before realizing it wasn't complete…until now! I can't wait to continue with this amazing story and see how it ends. There are seven books total in the Throne of Glass series and five novellas. You can check out book 1 on Goodreads here>> Throne of Glass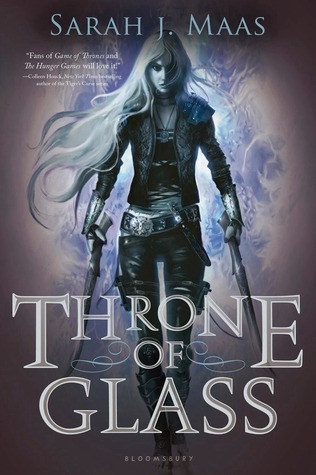 ---
2. The First Law trilogy by Joe Abercrombie
My husband and I both love this epic adult fantasy trilogy and are each competing for 'next up' with book three. The characters are amazing and the world building in each novel is outstanding. You will follow each character through rough and dangerous lands, where politics can kill and magic is no safer. Point of view switches between chapters which allows you to get well acquainted with each individual, as well as getting the inside scoop on how they feel about the characters around them. Though I haven't finished the trilogy yet, I HIGHLY recommend these books to just about anyone who enjoys a great story that makes you chuckle here and there. The Blade Itself will get you started if you're interested….and you definitely should be.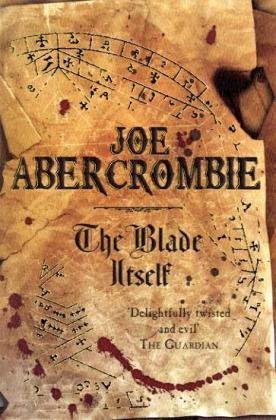 ---
3. Robert Langdon series by Dan Brown
You may or may not have seen the movies associated with this series like The Davinci Code but I really enjoyed both the first book in the series and the movies. (Plus they star Tom Hanks so really it's a no brainer for this fan girl.) If you are a fan of mystery thrillers and enjoy stories that encompass religious theories about the Holy Grail and the deep secrets of the Vatican, this could absolutely be a series you'll love. I love the types of mysteries that have ancient ties to history, and books that take you on a journey through architecturally stunning cities that you can actually go see in reality. (If you dare). There are five books in this series, starting with Angels and Demons. I am really excited to keep going with these books and find out what adventures lie ahead. Just don't say Illuminati…
---
4. The Empress of Rome series by Kate Quinn
I read the first book in this series years ago and really enjoyed it, but had no idea it was part of a series which is wonderful! I never tire of reading books set in a Roman setting, especially those written about the Greco-Roman era. The story follows a slave girl and her fight for survival in the cutthroat political climate of Roman society. The book is historical fiction with a side of romance and, in my opinion, does a great job of taking the reader undercover into the daily life of the citizens and slaves of Rome. There are four books in the series with a prequel to read in between books three and four. Mistress of Rome will take you straight into a world of gladiators, politics, and love that kills.
---
5. Fire and Thorns series by Rae Carson
This young adult fantasy series is about the youngest of three princesses who has been chosen to fulfill a prophesy that may very well kill her. There is political court drama, a journey through harsh terrains, and genuine character building that is done so very well. There were aspects of the first book I did not enjoy and made me want to forget the series entirely. However, there was enough about the story I truly enjoyed that has me ready to complete the series and find out how it ends. There are three full length books in the series and a handful of novellas to strengthen the story. You can begin the series with The Girl of Fire and Thorns.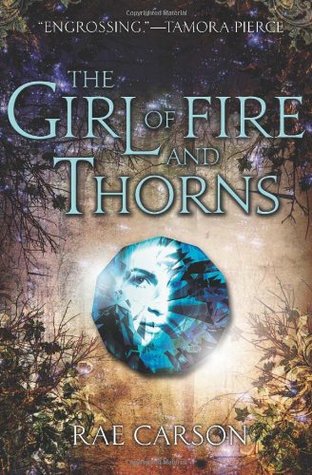 ---
Series to Start
1. Farseer Trilogy by Robin Hobb
Assassins: check. Adult Fantasy: check. Raving reviews: check. I have heard so many great things about this trilogy and now I must have it. The series is about a young boy who is cast out of his royal family and must train to be an assassin to survive. There is a magic system that allows the boy to communicate with animals and an epic fantasy adventure I really don't want to miss out on. And assassins….clearly I'm in the right place. The trilogy is complete so I am really looking forward to a good old fashioned marathon coming soon. Assassin's Apprentice is where I'll begin in my quest to devour every twist of the blade.
---
2. Shades of Magic series by V. E. Schwab
This series seems to have been read by everyone, and no one really has anything bad to say about it. Even my husband has read it and now I will be playing catch-up. From what I've gathered, this young adult fantasy series is about a magician with the extremely rare ability to travel between the four parallel Londons (Black, Red, White, and Grey) that make up the book universe. Each London has it's own political hierarchy, cast system, and deadly aspirations associated with the powers that be. I'm intrigued and am excited to get started with book one: A Darker Shade of Magic. Oh, and I forgot to mention this series is also complete which means it can be marathoned the way God intended. Happy day!
---
3. Outlander series by Diana Gabaldon
This is a series I've been meaning to start for a very long time and now that there is a TV series that people seem to love, I feel it's high time to get started. The story is about a woman in the 1940's that, on a second honeymoon with her husband in the British Isles, steps through a stone that transports her to 1743 Scotland as an 'Outlander' where she must navigate life as a native and stay alive. It's historical fiction and sounds amazing and I can't wait to dive in. The books are rather large, which could be a good or bad thing though my money is on 'good.' There are nine books total in the series, the last of which is set to release in 2020, and the first being Outlander. There are also three novellas, and a prequel to the entire series in the works. There's a lot of ground to cover with this series and I think I have my work cut out for me…
SIDE NOTE: I really want to buy the first copy in this series. They are wonderfully floppy paperbacks and I have a feeling I will enjoy this series enough to want to add them to my forever shelves. HOWEVER: since the release of the TV series, I CANNOT find these floppy paperbacks without the obnoxious "Starz series" tag on the front. ANYWHERE. So, if anyone knows where I might find copies of these paperbacks without the TV tags on them, please please please let me know! 
---
4. The Young Elites by Marie Lu
This is a young adult dystopian fantasy series that  follows a young girl who has survived a deadly fever that otherwise killed most of the nation she lives in. The survivors of this mysterious illness are rumored to possess other worldly gifts, magical abilities if you will. She will find out in this three book series that has a lot of great reviews and an intriguing element of mystery. I am looking forward to reading some of Marie Lu's books, and The Young Elites will be my first.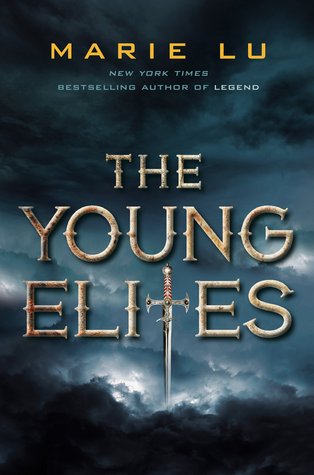 ---
That's all for my series of 2019. Have you read any of these? Thanks for reading!