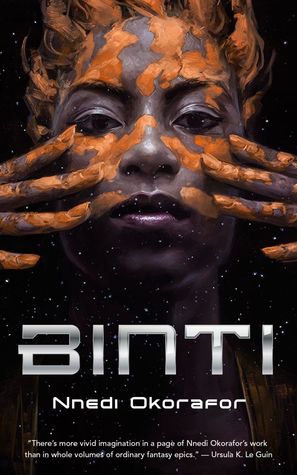 FIVE Stars ★★★★★ for Binti
---
My Thoughts
What an awesome read this was! I am also completely blown away by the fact that so much is offered to the reader in such a short novella. At around 90 pages, Binti is a beautiful piece of science fiction that speaks volumes about acceptance, compromise, and new beginnings.
The story is about a young girl, Binti, who is accepted into a prestigious university across the galaxy and chooses to attend, though leaving the planet is something her people just DON'T DO. The customs of her people are ancient and widely misunderstood, and her family wants nothing to do with this university or her leaving Earth to mingle with those who will only look at her with contempt and disgust. But Binti wants more than the life that has already been etched out for her among her people, and she goes.
As she ventures out into the unknown, her new discoveries and experiences are overwhelming, frightening, and eye-opening. But they are also exhilarating. This brave and intelligent girl will learn so much more than she imagined. And lucky for us readers, we get to be right there with her.
There are so many impressive aspects to this book. The writing is wonderful and the author weaves such a rich and thoughtful tale into each of the characters and their homelands. There is strength and pride in each character voice that can make the reader feel sentimental for a homeland they have only just heard of and long for the simplicity of childhood innocence. There is bravery in Binti, amidst uncertainty, to find peace and purpose in being unique in places unfamiliar and full of ignorance, drawing on her memories of home for strength.
I thoroughly enjoyed reading this book and I do hope you give it a try. The way the story was told, and the voice in which it was written, has motivated me to look into more works by Nnedi Okorafor and read what I can by this amazing author.
---
Thank you for reading and happy Monday all!